Determined and Resilient: Janet Garcia-Borbon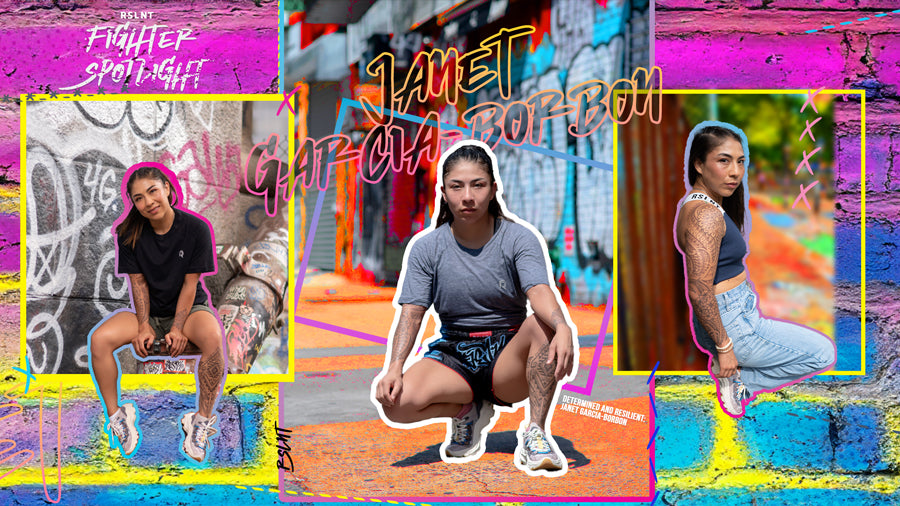 By Pari "Cherry" Aryafar
Photos by Bin You
It's no secret that being a fighter is difficult – the saying is, after all, "having the heart of a fighter." People are encouraged to "fight for their dreams" and to "not give up without a fight." If you do martial arts, then you know it's better to be a warrior in a garden than a gardener in war… and all that other stuff. 
But what exactly does that mean? It's more than just having the motivation to go to training every day or the determination to eat healthy even when dollar slice pizzas tempt you. It's about being resilient. Janet Garcia-Borbon is one athlete who exemplifies this better than most.
"As an immigrant, I've learned to work hard for everything I want. It has taught me work ethic, sacrifice, and resilience, which are all qualities required of a top athlete. It taught me not to give up when things get tough and to keep going. Life throws you curveballs, and you must be able to adapt. Just like in a fight," Garcia-Borbon said.
That first fight began many years ago when Garcia-Borbon was just in grade school. She and her family had emigrated to the U.S., and they found themselves facing numerous challenges that most people are fortunate enough to never experience. They were constantly grappling with the uncertainty of where they would live and how they would make ends meet. 
However, it was precisely this sense of uncertainty that fueled Garcia-Borbon's determination to forge a path in the world of combat sports. After trying Tae Kwon Do when she was 7 years old, Garcia-Borbon understood that by laser-focusing on her goals, she would be able to overcome any obstacle that stood in her way.
"I've learned that even when I'm scared, I can do things. That being afraid of something will not stop me. I'm able to overcome my fear in order to obtain what I desire," she said.
Now at the age of 32, the atomweight is known for her prowess in the Muay Thai ring. Her teammates affectionately call her "Muay Tyson" due to her fierce and relentless demeanor. Once the sarama starts, Garcia-Borbon's normally-smiling face transforms into her fight mode: her eyes narrow and her mouth lies flat, a look that usually signals danger to her opponents.
She went 21 and 4 as a Muay Thai fighter, even earning a bronze medal at the 2022 World Games. But now, Garcia-Borbon is ready for a fresh challenge in the world of professional MMA. In March, she made her debut for Combate, and it was nothing short of impressive. However, with a new goal comes a host of additional obstacles that one must overcome.
This extends far beyond simply hitting a bag when exhausted or waking up early for grueling training sessions. Garcia-Borbon understands that transitioning to professional MMA requires a different skill set, strategy, and mindset. Although she is a purple belt in Brazilian Jiu-Jitsu, she still must adapt her fighting style, learn new techniques, and face opponents who excel in different areas. It's a whole new game, and Garcia-Borbon is determined to prove herself in this arena, despite the hurdles that continue to arise.
"I struggled to find a balance between fighting and my personal life, such as how to make time for family, friends, work, and training. I used to push everything away and focus solely on training, but I've realized that's not what works for me; I need time with my family and friends to recharge and to know that I have a life outside of fighting. Because when everything is said and done, my family will be there for me," Garcia-Borbon said.
"Another concern has been finding safe and experienced training partners. Being the smallest fighter in my gym has its disadvantages. It's difficult for me to find training partners my size, and when you consider that I'm female, the pool becomes even smaller. The female fighting scene is growing, but not quickly enough. I'm always looking for training partners."
While her achievements as a competitive athlete are impressive (which include ten championship belts and two gold medals), Garcia-Borbon's academic accomplishments are equally noteworthy. She has three degrees: two associate degrees in biology, as well as scientific inquiry and quantitative reasoning, and a bachelor's degree in kinesiology. Her focus on school made for long days - waking up early to go to training before going to work, then going to classes, and finishing her evenings with her second round of training before doing her homework late into the night.
Balancing her demanding training schedule with her studies was no easy feat, but Garcia-Borbon's unwavering determination allowed her to succeed and excel in both areas.
"I had to work hard to keep my Muay Thai career alive while studying and working full-time. Fighting in the United States is one of the most costly financial decisions you can make. Fighting as an amateur costs a lot of money. So you must be certain that this is what you want to do and find a job that will help you pay for all of your expenses while also being flexible enough to allow you time to train," she said.
"Now, my life has changed drastically since becoming a professional MMA fighter. I used to train 3 hours a day, 6 days a week in Muay Thai, but now I train twice as much. I train for two hours in the morning, two hours at night, and another hour to two hours for lifting and running."
Despite her dreams coming at a great cost, the American Kickboxing Academy fighter hopes to pave the way for other female athletes to follow, even if progress appears to be slow.
"Women are becoming more accepted in the fighting world; after all, it has only been a few years since women MMA entered the UFC, and the first female fighters to fight at Lumpini took place a year ago.
There are more female fighters to look up to in the industry now. There are also more female coaches, which adds a fresh perspective to the fighting game. I am fortunate to have both a male and female coach who provide me with exactly what I require," she said.
"But, female fighters should be given more exposure. We are fortunate to have two female fights on a fight card. People may say, "Oh, there aren't many female fighters to put on the card," but there are, they just need to look better. I recall seeing female fighters for the first time at a show. It was my first performance, and when I saw them, someone asked, "What do you think?" I told them, "I could do that," and that spark ignited within me."
This desire to encourage others didn't start with her: Garcia-Borbon has wanted to emulate two of her biggest role models since she first found herself on the mats. Not only for how much they've helped her, but also for teaching her how to help others and their emphasis on never giving up on your goals.
"My mother and my coach Florina are two of my biggest role models. They've both taught me what it's like to be a strong, independent woman. They've worked so hard for everything, and they've accomplished everything they've set their minds to, and it's inspiring to see," she said.
"Like them, I want to be an inspiration to anyone who needs it. I want to inspire people who want to give up on their dreams to keep fighting and going for it. The journey is more important than the destination. Even if I don't meet all of my objectives, I'd rather be doing this than working a 9-5 job that I despise. This is what life is all about: doing what you love while surrounded by people you care about."
Garcia-Borbon has clearly accomplished a lot in her career while pursuing her passions. However, she still has a lot to look forward to, including her most ambitious goals yet.
"I want to be a champion, to win a MMA belt, and to be the best. I'd also like the chance to represent the United States again and win an Olympic medal. After that, I want to stay in the industry after I finish fighting and provide fight commentary," she said.
"I still have a lot to look forward to in my career and I am grateful to RSLNT to the support they have given me over the last few years as I have pursued my goals. A great sponsor is the best thing a fighter can have. They have helped my fighting career, but more importantly, they are people I can rely on. It's rare to find genuine people in life, but I've found two. Eric and Aom are two amazing people who care deeply about the Muay Thai community."
---