Jenine Pilla's Unwavering Resilience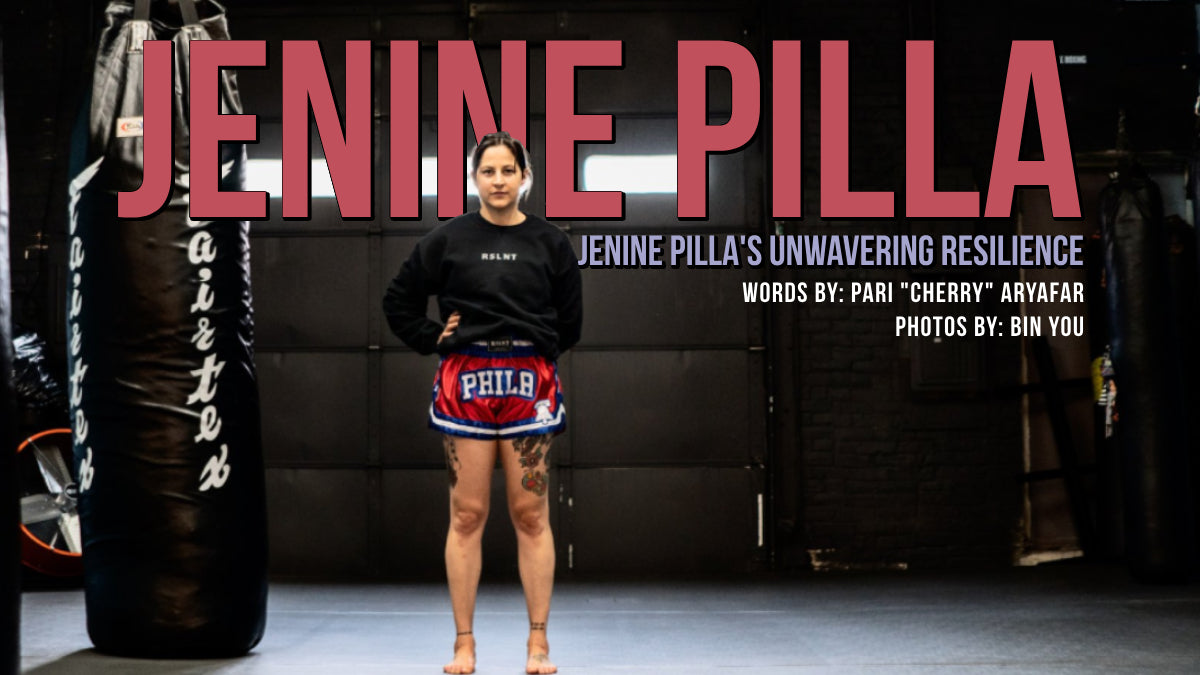 Words By: Pari "Cherry" Aryafar
Photography By: Bin You
When you think of Philadelphia and fighting, Sylvester Stallone's iconic Rocky Balboa immediately comes to mind. His memorable sneer-smile and renowned battle cry of "ADRIAAAN" will live on for generations. For anyone who is familiar with Rocky's story (which you should be by now, nearly ten films later), it chronicles his rise from underdog to champion. 
His triumphant yet painful saga is greatly contrasted with today's glamorized depictions of training and competing on social media, where highlight reels and carefully written captions mask the real stories of blood, sweat, tears, doubts, and fears that fighters go through to realize their dreams. Rocky's films, with their realistic portrayals of life as a fighter, show the true grit it takes to get to the top.
Jenine Pilla exemplifies this same determination – she might not have the stature of Rocky, yet her enthusiasm and spirit remain unmatched in the ring. Always wearing Philly on her back, she steps into the ring brimming with enthusiasm and her trademark smile, no matter the outcome. 
"I just knew I really wanted to compete. It consumed me (and still does). After starting at Body Arts, I moved to 8 Limbs Academy in 2017 with the goal of competing more. I competed 11 times in a year, then got demolished by injuries and was sidelined for a year or more. Ever since then, there has been obstacle after obstacle after obstacle just to get the chance to get into the ring.
"I have become way more grateful for the journey and for any opportunities I can get. I am still growing with every day I walk into the gym, but I have become more confident knowing I have had a million opportunities to give up and I haven't. I've found a true love for the game through it all and lots of self-awareness," Pilla said.
 Recently, Pilla faced one of her biggest opportunities to date: representing the United States at the WBC Amazing Muay Thai World Festival. Her battles, however, began long before she boarded the plane bound for Italy. The last few years have been a rollercoaster ride for the flyweight as she navigated some of life's most difficult fights, bobbing and weaving as she pushed forward.
"It has been a constant bumpy road of trying to compete and make a name for myself in this sport. I hit the ground running early in my fighting career, becoming A-class within about a year or two of starting training. I was then sidelined from competing due to a gnarly hip injury. When I came back from that, I lost a lot of my fights. I was forced out again for a while after wrecking my bike, where I broke my nose, got a gnarly concussion, and got some stitches.
"When I came back, I felt like I finally found my groove! I was getting title fight opportunities and winning. Then I was gearing up to fly out to TBAs for a stacked 112 division when I stepped in a pothole while running, busting my ankle and having to sit it out and miss the opportunity to qualify for IFMA. Then COVID happened… then I had a comeback, winning WAKO nationals and getting to compete in Italy for WAKO worlds… then my Dad passed… and here we are! After just winning the ammy WBC title and trying yet again to get back up and going, I am figuring out where in this sport I belong and what's next," she said.
It takes a great deal of mental fortitude and resilience for Pilla to show up day in and day out at the gym. Nonetheless, she perseveres through a love for the sport, even when it seems like the world around her is crumbling.
"Every time I come back from a setback, I see how much I have improved, and that feels amazing. "I feel like the work done when no one is watching truly is paying off and that there is so much more growth to be had," Pilla said.
The years of hard work, injuries, setbacks, and obstacles were finally rewarded; after several grueling rounds, Pilla emerged triumphant, proudly carrying the WBC belt back to Philadelphia. Just like Rocky, her strength, determination, and perseverance had ultimately enabled her to become a champion.
"As far as winning, it feels good but I wish I had more women in my bracket to be able to fight more. More than anything it's just another step in the direction I want to go so it feels validating and exciting. 
"It was an accomplishment to stay focused through the utter chaos of the tournament. Things were constantly changing and you just had to roll with it. It's always confidence boosting to be able to perform when all your ideal preparations are thrown out the window and ya gotta just get in there and trust in your training and abilities under duress. It's why I love tournaments. Kate and I always say we thrive in chaos," she said.
Pilla's success would not have been possible without the love and support of her coaches, Charlie and Kate, as well as her partner Adam and devoted teammates. She is incredibly grateful to them all and is determined to do them all proud as she competes in the tournament. Even more importantly, she seeks fulfillment within herself for her hard work and dedication.
"I feel like I am constantly coming back from roadblocks, and I am trying to figure out what to do next in this damn sport. Doing well in Italy will just help show me I'm on the right path and that I'm ready to take the bigger steps I've been wanting to take.
"After my Dad passed, I struggled a lot with feeling guilty about how much time and space I allowed Muay Thai and training to take up in my brain and my life. That was really hard to work through, and it was something that troubled me getting ready for my WBC title fight. But I know that my reasons for competing and training make me happy, and that's enough to keep on keepin' on with eyes set on having a better balance outside of the sport as well."
---